Welcome to Star Wars Galaxy Wiki
The wiki about Star Wars: Galaxy™ that
anyone can edit
!
Featured article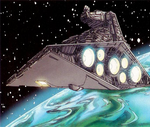 The
Battle of Felucia (Imperial-Chiss War)
was the only battle in the
Imperial-Chiss War
and saw the largest destruction of naval fleets ever, the battle was fought between the
Empire of the Hand
under
Grand Admiral
Kato
, the
Galactic Empire (Mar)
led by
War General
Rey Kavar
and the
Galactic Alliance (Eylon)
led by
Fleet Admiral
Lok Kavar
. The battle lasted eighteen days and saw the Empire of the Hand victorious but eventually led to their retreat from the galaxy and their destruction.
Ad blocker interference detected!
Wikia is a free-to-use site that makes money from advertising. We have a modified experience for viewers using ad blockers

Wikia is not accessible if you've made further modifications. Remove the custom ad blocker rule(s) and the page will load as expected.